This Is Not The Kind Of Streaking the Celtics Want
Boston struggles down the stretch in overtime home loss to Cleveland, have now lost two straight after winning first three games of the season.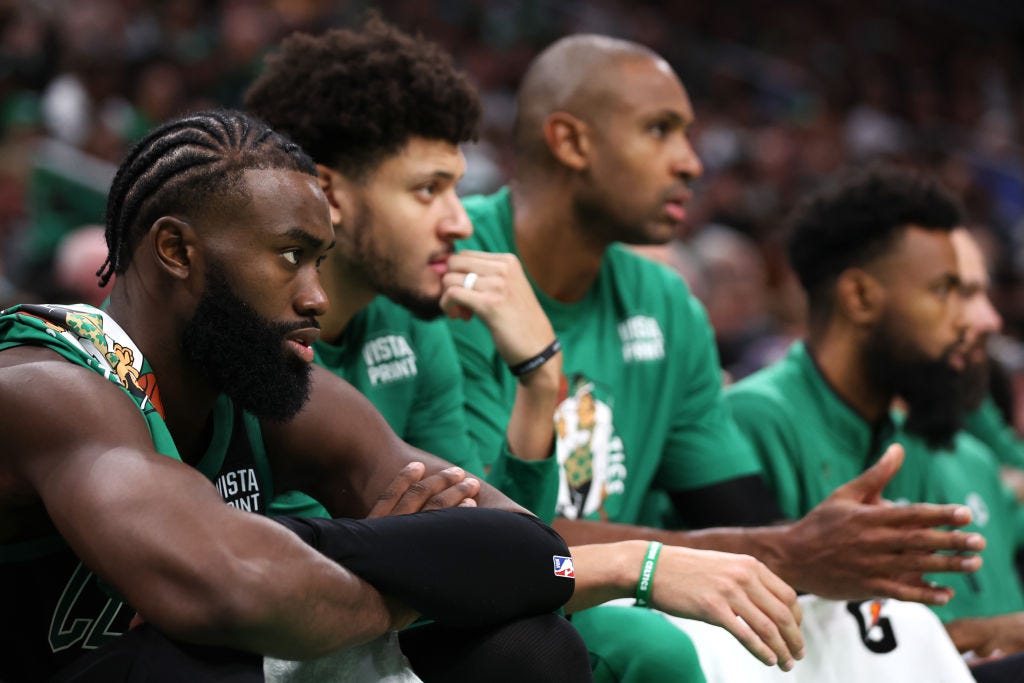 This Cleveland Cavalier team won't be confused with the squads LeBron James put on his back and carried to deep playoff runs.
They're not the lottery-bound, not-so-loveable losing teams that for too many years to count, defined Cadavers Cavaliers basketball.
They are a scrappy, hard-to-put-away team that makes for a formidable foe.
The Boston Celtics know this all too well following Friday night's 132-123 overtime loss to the Cavs.
Boston had a chance to win it in regulation, but Jayson Tatum's last-second, fadeaway shot was off the mark.
The overtime period belonged to Cleveland, opening with a 7-2 run to lead 121-116.
But the Celtics bounced back with five straight, including a Jaylen Brown dunk over Donovan Mitchell in which he was fouled.
However, Brown missed the free throw which left the game tied at 121.
That would be the last glimmer of hope for Boston to rally, with the Cavs finishing the game with an 11-2 run.
Boston fell behind by as many as 13 points in the first quarter, only to bounce back and lead after the first following a buzzer-beating 3-pointer by Sam Hauser.
The second quarter saw Boston's control of the game only grow, as the Celtics pushed their lead to as many as 15 points.
But this is a different, much-improved Cleveland team that has been among the better teams in this still-young NBA season.
They continued to chip away at Boston's lead and would eventually go in front before pulling away in the overtime session for the win while giving Boston its first losing streak of the season after a second straight loss.
STARS
Donovan Mitchell: Euro-steps, drives to the basket. Donovan Mitchell was very much in his bag of offensive tricks on Friday night. He would lead all scorers with 41 points.
Jayson Tatum: Coming into Friday's game fifth in the league in scoring (32.5 points per game), Tatum was well on his way to eclipsing that mark with a strong first half of 24 points. He cooled off some in the second half but still finished with a strong night of 32 points to go with seven rebounds and four assists. Despite shooting an efficient 11-for-19 from the field, Tatum came up short far too often in the second half, missing shots the Celtics absolutely had to have in order to escape with the win.
Caris LeVert: The Cavs have been looking for a solid sidekick scorer next to Donovan Mitchell, and Caris LeVert very much looks the part. He would finish with 41 points for Cleveland, to go with seven assists.
STUDS
Jaylen Brown: This was yet another game when Jaylen Brown did a lot of positives scoring the ball, finishing with 32 points to go with eight rebounds and four assists. But he had some clutch misses from the free throw line where he was 8-for-12 for the game.
Evan Mobley: His length and touch around the basket was a problem for Boston for a number of key stretches on Friday. He would tally a double-double of 19 points and 10 rebounds.
UH-UHS
Marcus Smart: This was one of Marcus Smart's worse games in a long time, at both ends of the floor. Offensively, he could not make shots with misses on 12 of his 15 attempts. Defensively, he couldn't stop shots from going in. So it was no surprise to see his plus/minus for the game was an unspectacular minus-26.
Second-chance points: With the injuries in the frontcourt and no Grant Williams (suspension), winning the battle of the boards was going to be an uphill climb. This was particularly problematic on the offensive glass which heavily factored in Cleveland enjoying a 14-9 edge in second-chance points.
Luke Kornet: By no means was this loss on Luke Kornet's play or lack of play. But Kornet struggled in just about every way imaginable defensively. For too many possessions, he was either getting dunked on or scored upon by one of Cleveland's big.