Celtics Defense Shows Up, Gets Green Team Back on Winning Track
Boston's much-maligned defense came up with a strong performance, led by limiting high-scoring guard Wizards guard Bradley Beal to just 12 points - more than 10 points below his season average.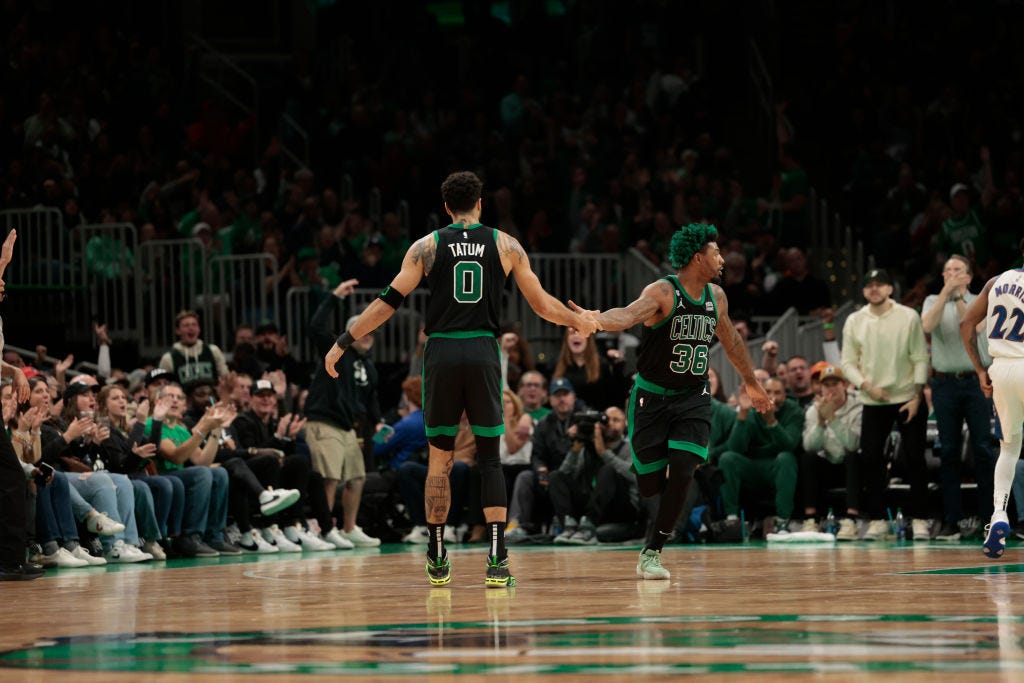 The Boston Celtics needed a game like this.
Sure, beating the Washington Wizards 112-94 was good for the Green Team.
But one of the keys to the victory was the Celtics' ability to limit Washington's best scorer, Bradley Beal who had 12 points - more than 10 below his season average of 22.6 per game.
Yes, the Celtics actually had a game in which their defense was a key to the game ... in a good way for a change.
For years, Boston's defense has been among the best in the NBA.
This season?
Not so much.
After being ranked among the top-tier teams defensively in most statistical categories for years, Boston has been among the league's bottom 10 defensively.
Boston (4-2) came in having lost two straight, the last of which was to Cleveland which had two - yes, two - players in Donovan Mitchell and Caris LeVert who each scored 41 points.
So to not just beat the Wizards, but limit Beal's impact (his first made basket didn't come until the latter stages of the third quarter) bodes well in Boston's focus on game-by-game improvement and their chances to avenge the loss to Cleveland on Wednesday.
---
STARS
Jaylen Brown: This wasn't one of Jaylen Brown's more efficient games shooting the ball. But his aggressiveness in getting to the rim and making the Washington defense pay when they left him alone from beyond the 3-point line for too long, was a good sign. Blending both of those worlds together along with being one of Boston's defenders who limited Bradley Beal most of the night, was encouraging. He would finish the game with a double-double of 24 points and 10 rebounds to go with two assists.
Jayson Tatum: The game began with Jayson Tatum scoring the first six points, and he continued to pour it on for Boston. With a lead that ballooned to as many as 24 points in the first half, Tatum's steady hand offensively was among the reasons why this game was never really much of a game as Tatum tallied 23 points with four rebounds and three assists.
---
STUDS
Malcolm Brogdon: The Celtics have consistently kept Malcolm Brogdon's minutes relatively low which has put a greater premium on him making the most of his limited court time. He did just that on Sunday against Washington, finishing with 23 points in just 23 minutes on 6-for-12 shooting from the field.
Kristaps Porzingis: The on-the-floor chemistry with Kristaps Porzingis and his Washington teammates remains a work in progress, but it's clear he's getting a better feel for his role and potential impact. He finished Sunday's game with a double-double of 17 points and 13 rebounds.
---
DUDS
Bradley Beal: One of the NBA's top scorers, Bradley Beal didn't make his first field goal until the 1:04 mark of the third quarter. He would finish the game with an atypical scoring night of just 12 points on 4-for-16 shooting from the field.